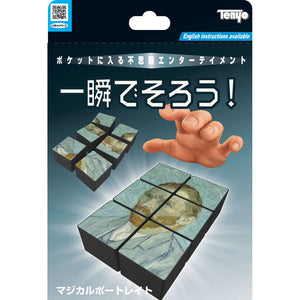 Vernon Magic
Instant Portrait T-286 by Tenyo Magic Co

Thanks to a brand-new gimmick, you can instantly form the mixed-up blocks of a puzzle into a completed painting! You may also replace the painting with a customized message or greeting. This magical effect is sure to surprise and satisfy your audiences!
Show two sets of blocks containing jumbled-up images.
Assemble one set of six blocks into a completed painting. It is clear that this process takes time to complete with accuracy.
However, by simply covering the remaining blocks with the box...
The blocks instantly rearrange themselves to form a completed painting!

Alternate presentation: You can customize the blocks to display a personalized message for birthdays, anniversaries, or other celebrations
---
More from this collection