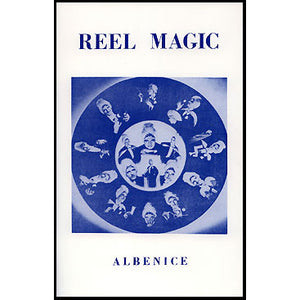 Vernon Magic
Reel Magic by Albenice book
The Reel is a utility prop that should be in every magician's possession.  With it, you  can manipulate, vanish, appear, penetrate, animate, float, transpose, color-change and many other things.  Reel Magic is an encyclopedia of effects one can perform with reels, containing the information and routines that can be used with a reel.  It also has a section on Basic and Advanced Principles.  Softcover, 83 pages, with detailed illustrations.
The book has seven chapters, and contains virtually every conceivable effect ever performed with a reel. It includes: 
Knots With Handkerchiefs, Serpent Silk, Visible Self-Tying Silk, Naughty Knot, Visible 40th Century Silks, Penetration Effects With Silks And Handkerchiefs, Color Changing Silks, Card On Ribbon, Rising Cards Through The Air, The Magnetized Wand, Ring Up, Ring Down, Sight And Touch Vanish, Flying Dollar Bill, The Elusive Bill. Flying Dollar Bill Across A Room, Balancing A Chair On Two Legs, De Kolta's Card Fountain, The Floating Cigar, Dancing Handkerchief, Vanishing Bird Cage, Flying Rings
and many more.  
---
More from this collection