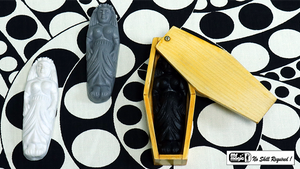 Vernon Magic
Magic Mummy Mystery new wooden sarcophagus
Deluxe model with wooden sarcophagus!                                                                  Three different colored mummies and an empty sarcophagus (coffin) are displayed to your spectator(s). 
All three mummies and the sarcophagus are handed to your spectator. You ask them to inspect each piece to ensure there is no trickery. 
You instruct your spectator to place one of the colored mummies into the sarcophagus and to hide the other two from your view. 
Next, you walk out of the room as your spectator follows your instructions. When you walk back into the room, you immediately know which of the mummies was placed inside the sarcophagus!!! This can be repeated over and over. You NEVER miss! 
You cannot see inside the sarcophagus, it is 100% opaque. 
You never touch the mummies. 
You never touch the sarcophagus. 
You never have to ask any questions. 
You never have to get near the sarcophagus to know which Mummy is hidden within. 
Remember -- the mummies are handed over to a spectator, along with a plastic coffin, and the spectator is invited to place the mummy he fancies into the coffin. The other two mummies are concealed, but each time, the magician can immediately reveal the correct color of the mummy without ever touching it. You'll love performing this and amazing your audience!                                                                                                 The performer reveals the color, without touching the coffin or even going near it. E-Z to do! This trick can be performed over and over again. To top it off everything may be passed out for examination.
---
More from this collection