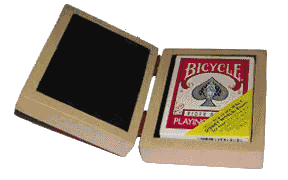 Vernon Magic
Locking Card Box - Wood
The Card Change Box is one of the classic utility props, with a host of applications. As the name suggests it is a box for changing a playing card, and can be equally effective to change a business card, paper slips, or envelopes, currency notes, etc.

This model resembles a simple unadorned wooden box, apparently designed to hold your precious deck of cards, complete in its case. It is designed in a size to hold a complete deck of playing cards with case (Bridge or Poker size), making it a natural prop.
You could use it to hold your deck of cards, remove the cards from the box during performance, and use the box for the change during your effect.
The audience does not suspect it as a special magician's prop. It has a magnetic locking feature, so box can be handled by the audience after the change of a card, or paper slip, etc.
 It is supplied complete with ideas for use.
---
More from this collection