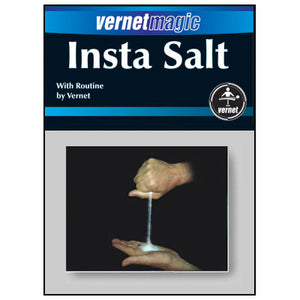 Vernon Magic
Insta Salt by Vernet Magic of Argentina
You pour salt from a salt shaker into a handkerchief, give the handkerchief a shake and the salt has vanished. You now show your hands empty, but you begin to reach into the air and suddenly the salt pours from your fist into a spectator's hand. You show your hand empty again and ask the spectator to place the salt he has in his hand into your right fist, quickly show your right hand empty and simultaneously you begin to pour salt out your left fist, an UNENDING SUPPLY OF SALT!Great combination with Vernet's Ethereal Salt.

You Receive: 2 special made gimmicks and a Vernet Thumb Tip

-The gimmicks are made in high-reaction plastic material.

-Comes complete with full illustrated instructions and routine.
---
More from this collection