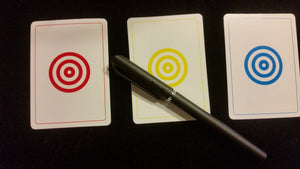 Vernon Magic
MIND CONTROL
Sale price
$5.00
Regular price
$8.95
This is Awesome!  The magician removes 3 cards from an envelope with a magic pen.
He places the cards face up on the table and asked the spectator to slowly wave the magic pen over the 3 cards and to start thinking about one, Do you have one? Would you like to change your mind? Please set the pen down on the color you are thinking of, What ever color the spectator freely chooses the magician shows him the prediction that has been on the table the entire time and the prediction is the card the spectator chose!!! Works no matter which of the 3 cards are chosen!!!
 
            Complete set, Bicycle style, ready to perform!
---
More from this collection