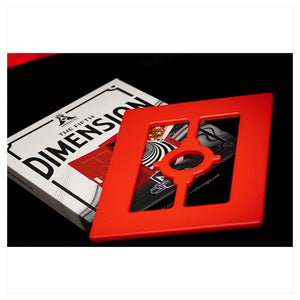 Vernon Magic
FIFTH DIMENSION by Apprentice Magic
"The Apprentice Line is so good."
-Magic Orthodoxy, Reviewer
Full Review
THE FIFTH DIMENSION is a trip to the future, past and present ALL AT THE SAME TIME!

EFFECT:

In this version, You display a SOLID glass door and take your audience to the FIFTH DIMENSION! You go into the future, the past and the present ALL AT THE SAME TIME! You take a playing card and place it in the glass door, next you take a pen or pencil and shove it through the CARD AND GLASS DOOR! You then take the card out of the glass door and show the card has been punctured yet the glass door has not been damaged in any way! EVERYTHING can be inspected BEFORE AND AFTER the trick!

All Apprentice products come complete with all necessary props, online instructions as well as a great storyline to capture the imagination of your audience. The Apprentice Line of magic is focused toward beginners yet, many professional magicians around the world use these same tricks in their live shows. Learn magic the right way with the Apprentice Line of magic!
EASY TO PERFORM!
SELF WORKING!
NO SLEIGHT OF HAND!
EASY TO LEARN!
ONLINE VIDEO INSTRUCTIONS!
ALL PROPS INCLUDED!
PERFORMANCE TIPS!
STORY / PATTER INCLUDED!
GREAT QUALITY!
---
More from this collection