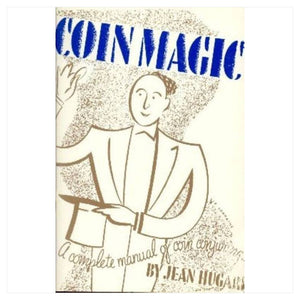 Vernon Magic
Coin Magic by Jean Hugard
From basic to advanced skills!
A classic manual of coin magic skills- for good reason!
The legendary Jean Hugard wrote this book in 1935, and it has never gone out of print!
And for good reason!
Here you'll find a clear explanation of the beginner to advanced moves that you can use to perform the treasure trove of coin effects in this book.
There is something for every level of magician here.
And you are sure to find some effects you've never seen before!
Jean Hugard was an Australian magician who earned top honors in the magic world from his extensive and important literary contributions.
He is best known as the main author of Greater Magic, completing the lion's share of this important book after the death of John Northern Hilliard.
Hugard wrote this book with the idea that every magician and every spectator always has coins with them.
So what better skill to develop than coin magic skills?
You will be ready to do some clever magic right out of your pocket!
INCLUDES A CHAPTER ON MISER'S DREAM!
It's very difficult to find material written on the Miser's Dream effect.
Hugard wrote a whole chaper, covering history, technique and even patter (what to say).
This one section of the book alone is worth the price!
Contents:
Basic Palms and Changes

Coin Tricks Without Apparatus

Easy Tricks, Flourishes and Catches

Tricks With Faked Coins and Apparatus

Advanced Sleights, Flourishes and Sleeving

Advanced Tricks

Special Sleights

The Miser's Dream
The Original Trick
The Modern Stage Method

Manipulations and Advanced Flourishes

Patter For The Miser's Dream
Here's what you'll get:
BOOK ONLY. You supply your own coins.

Book is softbound. 88 pages.
Current reprint of the original 1935 edition.
---
More from this collection