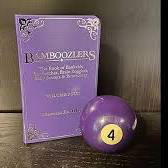 Vernon Magic
Bamboozlers Vol. 4 by Diamond Jim Tyler
Bamboozlers Vol. 4 by Diamond Jim Tyler - Book.    
The biggest volume yet. Bamboozlers Volume 4 by Diamond Jim Tyler comes in at 188 pages and features 75 new bits of business.
More jokes. Longer routines. Bamboozlers Volume 4 is the ultimate book of bankable bar betchas, brain bogglers, belly busters, and bewitchery.
High-quality heavy stock pages, faux purple leather cover, and a purple silk ribbon marker with matching head tail bands. Garnished with silver foil stamping and silver gilded pages.
---
More from this collection