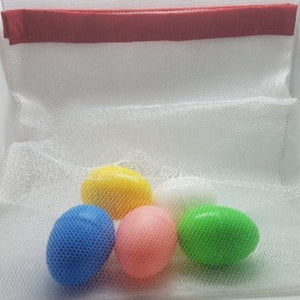 Vernon Magic
Adair's Mesh Egg Bag
I just saw professional magician, Ken Scott perform this entertaining, baffling effect.
 Ken did a magic lecture in Sparta NJ and the magicians were going crazy for it. They were flying off the shelf.
Performer shows a clear net bag. In this "nest" are 5 different colored eggs.
Tell 4 spectators that they have a chance to win $50!
Each spectator freely picks an egg from the bag, lucky dip style. 
Last egg is for magician. 
Each spectator opens their egg and inside they find a consolation message that says " better luck next time".
In the magician's egg is the $50 bill !
 Very simple to do and amazing!
The bag is approx. 9" long x 8" wide.
Complete set includes eggs, gimicked bag and instructions.
A great quality prop!
---
More from this collection