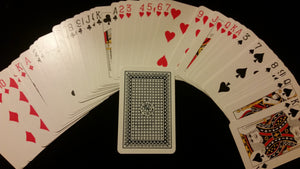 Vernon Magic
SECRET MARKED CARDS
The greatest marked deck in the world.





Ez to read 

secret mark on the back of every card!


Yes, you can read the back of every card 
Magic marked cards, exactly like they sound, a regular deck but every card has a secret mark on the back. Once you learn the EZ system you will be able to tell any card in the deck just by lookiny at the back of the card!
Imagine how surprised the spectator will be any card they pick you can tell them what it is with out even looking at the face!
Classic magic and a lot of fun to perform. These bridge size cards are at a great price today and you can Buy it Now! Thanks for looking....
Every old pro in magic grew up with one of these, and ez to do!
Instructions with secret enclosed.
---
More from this collection