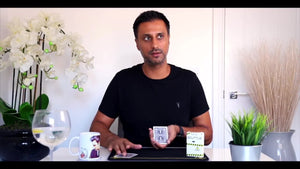 Vernon Magic
Scuttle (Gimmicks and Online Instructions) by Vinny Sagoo
If you fancy adding a little scare and laughter to your magic, you need SCUTTLE!

EFFECT:

Four blue backed cards are fanned out and one is turned over to show a drawing of your first pet, a little cockroach.

You place this on the table and click your fingers, whereby the cockroach has 'scuttled' back to your packet of cards and on the table is a card with footprints.

You place the cockroach card back on the table and in an INSTANT, it has 'cuttled' back to your packet, leaving another card with footprints.

Finally, you sandwich the cockroach card between the other two cards and ask the spectator to hold the last card face down.

You click your fingers and display three cards with footprints and when the spectator turns over their card, they are shocked to see a BIG real-life COCKROACH!
Easy to do
Full instructions
Comes with imitation cockroach
High quality USPCC cards
Scare included!
---
More from this collection