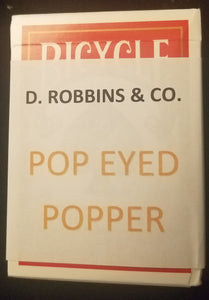 Vernon Magic
Pop Eyed Popper Bicycle Deck - Improved
L
Improved coating Pop Eyed Popper deck! The perfect forcing deck, plus much more! It may be shuffled by a spectator. A selected card placed into the middle of the deck "pops" to the top. The top card "pops" to the bottom. Two selected cards "pop," one to the top of the deck and the other to the bottom. Plus "Skilled Second Dealing" and the "Tops of All Stop Tricks."
Force a card without sleight of hand.  Make the selected card match your prediction, which can be placed in an envelope and given to the spectator well in advance.
Build a reputation as a card expert, although no sleight of hand and very little skill is required.  Easy to do, instantly resets. Red backed. 
---
More from this collection