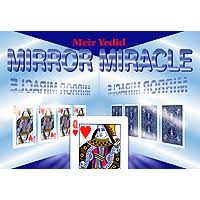 Vernon Magic
MIRROR MIRACLE (MEIR YEDID)
This is a quick routine using four cards that appear to be all the same, then magically transform to look the same on both sides and finally all four cards are shown to have mirror faces--It's all done with mirrors--Of course.
Includes a relaxed, humorous presentation and can be performed with a freely selected and signed card.
Comes complete with Poker-size Bicycle cards and photo-illustrated instructions. Magician's  note- this one will take a good amount of practice by is well worth it!
---
More from this collection