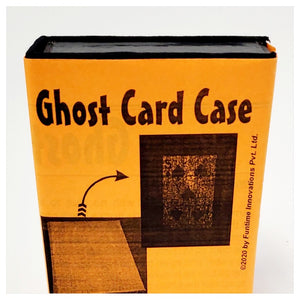 Vernon Magic
Ghost Card Case
Magician removes a pack of cards from a black card case. He asks a spectator to pick a card, see it and show it to the rest of the audience without showing it to the magician. The spectator is asked to replace the card anywhere in the deck. The magician places the cards in the card box and then places the box in the card case. Now the spectator is asked to take out his own smart phone (a digital camera can also be used) and open the Camera app and take a picture of the card box in the flash mode. After taking the picture he is asked to open the gallery to see the last photo captured. To the utter amazement of the spectator the photo of the card box shows a light impression of his selected card, on the card box. This impression was neither there on the card box before nor is there now after taking the photograph. This trick can be repeated again with a different outcome.
Remember – the spectator uses his own smartphone or camera, and there is no doctoring of the image. A truly uncanny mystery, ready to work right away.
We supply you a complete and ready to work outfit with card case (which can hold a Bicycle deck) and a regular deck of playing cards. You can also use your own deck if you please.
---
More from this collection